Special Events
James 5: v 13- 15, "Is anyone among you in trouble? Let them pray. Is anyone happy? Let them sing songs of praise. Is anyone among you sick? Let them call the elders of the church to pray over them and anoint them with oil in the name of the Lord. And the prayer offered in faith will make the sick person well; the Lord will raise them up."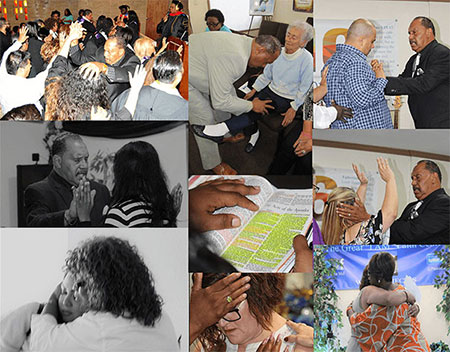 Prayer & Healing Service
We will be conducting a Prayer & Healing Service on Sunday, August 4th, from 3:00pm - 5:00pm. There you will experience Anointed Worship, teaching from the Word of God, on Faith and Healing, Anointing with oil, partaking of Holy Communion, and personal prayer time for the sick. We invite all to come and receive God's touch through the power of the Holy Spirit.
You don't need to be a member or attend our church. This is an open invitation to anyone that would like to connect with God in prayer and healing!
Divine healing is the act of God through the person of Jesus and the prayers of the saints where a person is healed physically and/or delivered from emotional, mental, or spiritual affliction. Most often, it is seen as a physical healing of sickness, such as cancer, diseases, deformities, etc., but it is not restricted to the physical. Some of the verses used in support of this doctrine are as follows . . .
Isaiah 53:5, "But He was pierced through for our transgressions, He was crushed for our iniquities; The chastening for our well-being fell upon Him, And by His scourging we are healed."
Matthew 8:16-17, "When evening came, they brought to Him many who were demon-possessed; and He cast out the spirits with a word, and healed all who were ill. 17 This was to fulfill what was spoken through Isaiah the prophet: "He Himself took our infirmities and carried away our diseases."
1 Peter 2:24, "and He Himself bore our sins in His body on the cross, so that we might die to sin and live to righteousness; for by His wounds you were healed."
James 5:14-15, "Is anyone among you sick? Then he must call for the elders of the church and they are to pray over him, anointing him with oil in the name of the Lord; 15 and the prayer offered in faith will restore the one who is sick, and the Lord will raise him up, and if he has committed sins, they will be forgiven him."
Jesus did buy us healing while on the cross. Because in the resurrection, all of our infirmities were healed.